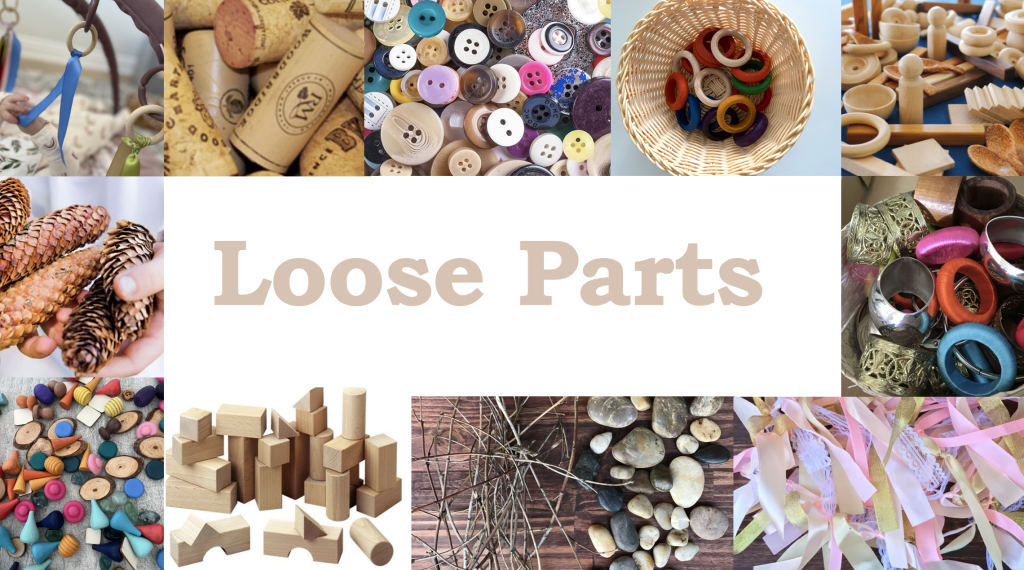 What are they? Loose parts refer to open-ended materials that can be manipulated in different ways. Loose parts are interesting, unexpected, real objects that provide children with unlimited play possibilities. There is no specific way to use them which is why they are so appealing. Children are given the freedom to make their own rules, to imagine and to be creative.
Loose parts are mobile objects, they can be carried around, poured and dumped. They can be used for sorting, for counting, for role playing, for transient art. You can build with them, stack them, manipulate them in different ways, pull them apart, but them back together, line them up and mix them. Loose parts can be found in nature or found in your home. They are not fancy toys, have no flashing lights and do not require batteries. Loose parts are often inexpensive or even repurposed or recycled and can be played with indoors or outdoors. Here are some examples: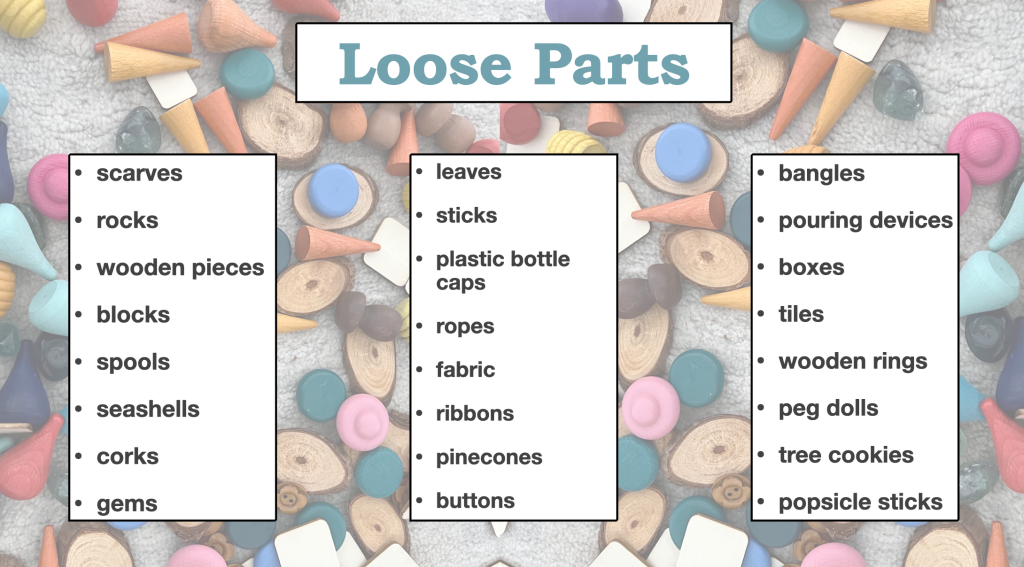 What I find so fascinating about loose parts is that every child uses them differently and in a way that is meaningful to them. One child may use buttons as play food or money in a pretend grocery store. Another child might use wooden blocks to build a boat or a rocket ship and use corks as people or astronauts. The next day, the boat may be turned into a tree house or a castle and fabric or wooden spools might be used as furniture and decoration. I have witnessed this play many times and each time it is truly magical. The possibilities for play are endless with loose parts and can be enjoyed by children of all ages and abilities.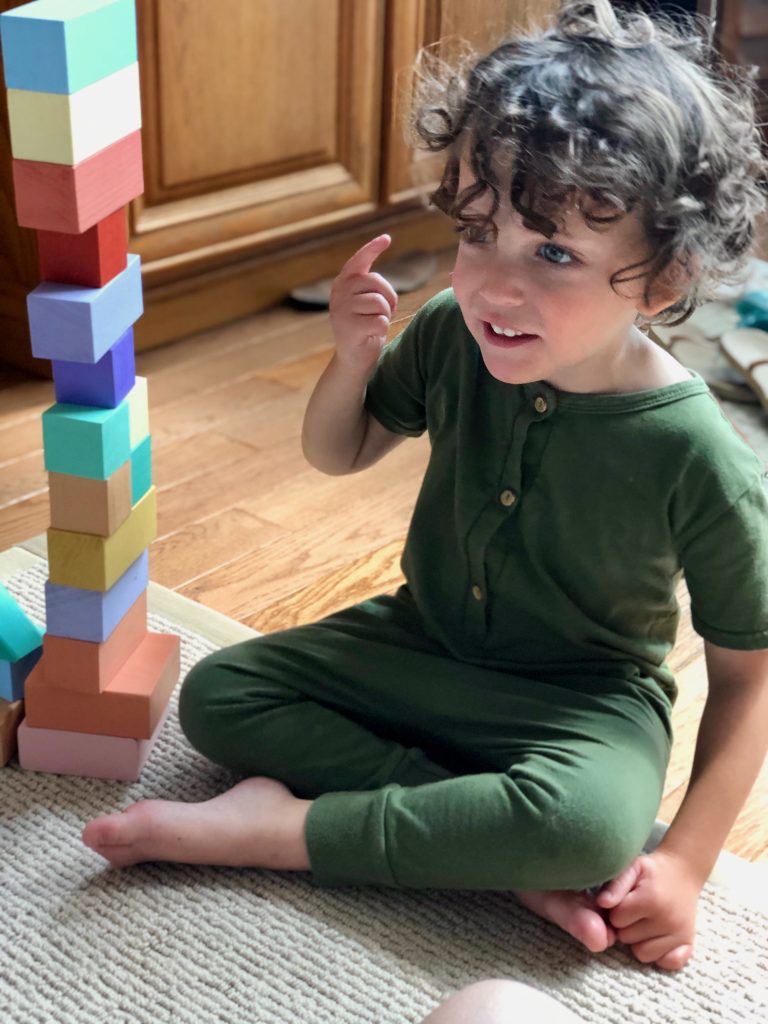 Closed-ended toys refer to those toys that are often only used in one way and serve one purpose. A puzzle for example is closed-ended since it has one outcome. Once a child has mastered the puzzle and put all of the pieces together, the child often moves on. A car for example or a dinosaur, no matter how you look at them, are always going to be a car and a dinosaur. Children are often going to play with them with that in mind.
So, what do I do with my closed-ended toys? Do I get rid of them? Absolutely not!There is nothing wrong with them and they serve a purpose, just like open-ended toys. What I do challenge you to do is consider a balance. Weave your closed-ended toys with your open-ended toys. For example, children love toys cars, farm animals, trains and so on. Instead of buying expensive plastic car ramps, barns and train tracks, encourage your child to build those more traditional toys from loose parts like wooden blocks, wooden boxes or Lego!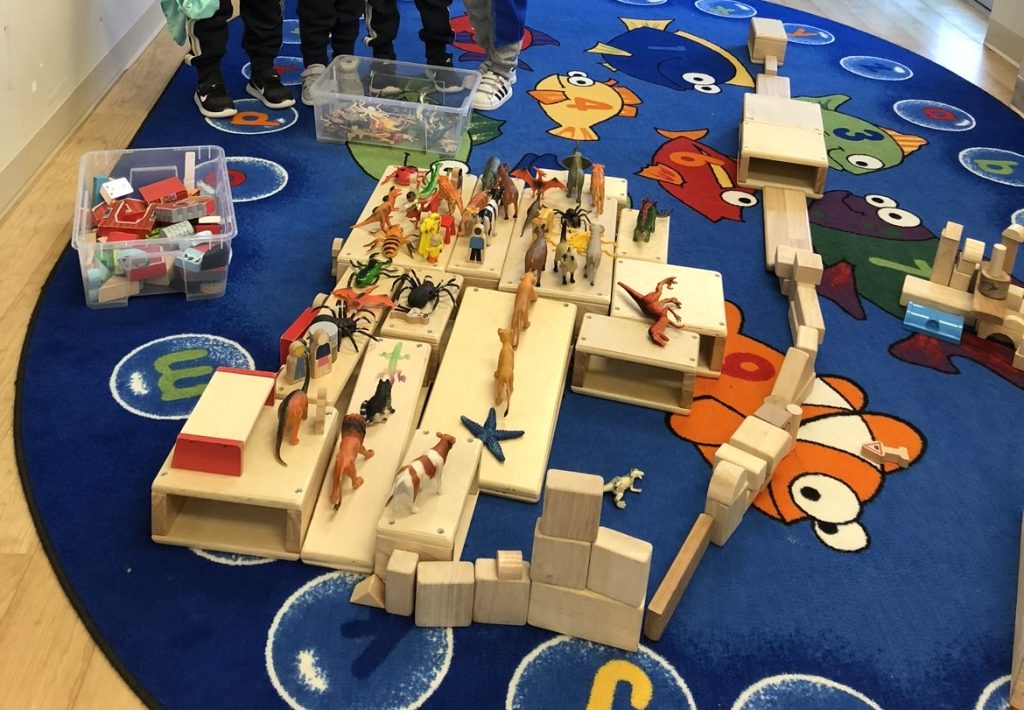 Safety and Loose Parts. When selecting loose parts, it's important to make sure the materials are large enough, so they do not pose as a choking hazard. Careful adult supervision will prevent any accidents and it is the adult's responsibility to make sure loose parts have no sharp edges or harmful chemicals. If you are unsure if an object is a choking hazard or not, use a toilet paper roll to measure. If the item fits in the toilet paper roll, it is too small for a baby, since they put everything in their mouths.