Here are some of our favourite sensory activities at the moment that we have been doing on repeat at home. All activities have been given the seal of approval by my amazing 18-month-old daughter. She showed so much excitement, joy and wonder.
1. Water Painting on a Box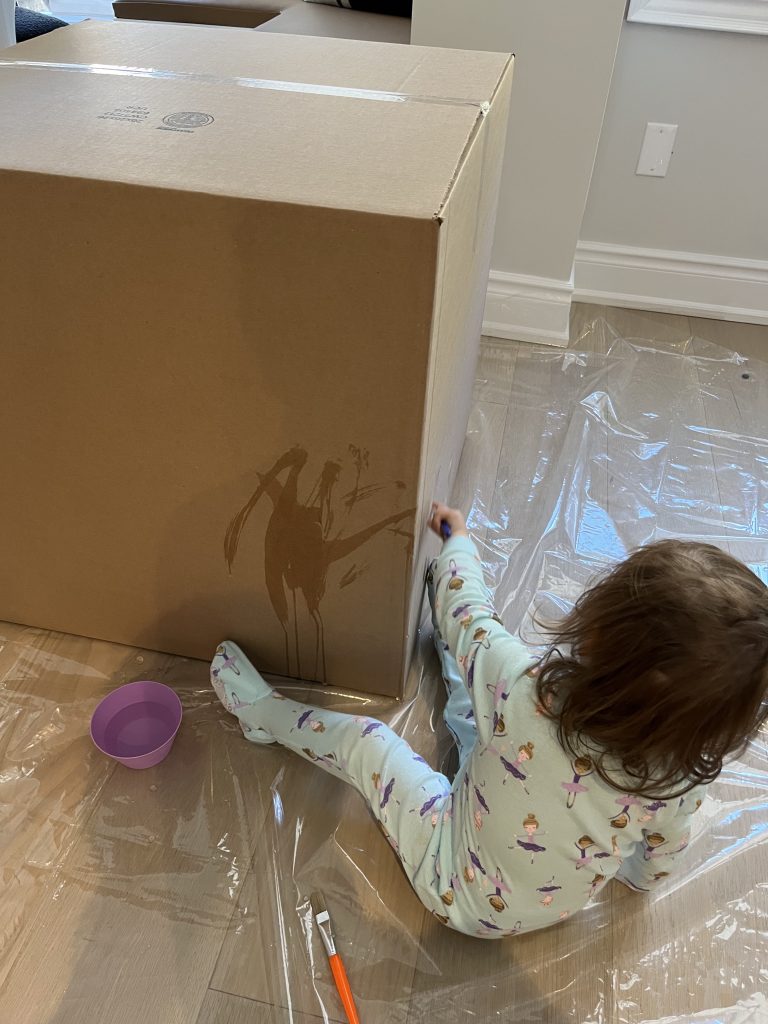 All you need is water, paint brushes and a box. I filled a bowl with water and gave my daughter a paint brush. It was like magic! We loved watching the water dry and our artwork completely evaporate and disappear. What I love most about this activity – it takes seconds to set up and clean up. AND so much learning is taking place during this simple activity. Children are learning the basics of painting (without the mess!) like how to hold the brush, dip the brush into water and make different strokes. Using a box also gives your child the choice to either paint sitting down or standing up. They are strengthening their core muscles as they bend and reach to paint different parts of the box. Vertical painting also naturally puts the wrist in an extended position which encourages better pencil grasp. This activity is great to teach children pre-writing skills as they paint curvy and straight lines and gain better control of writing utensils. Once your baby can comfortable sit on their own, I highly recommend this activity. I promise your kids, babies, toddlers or students will love it!
2. Taste Safe Sand Sensory Bins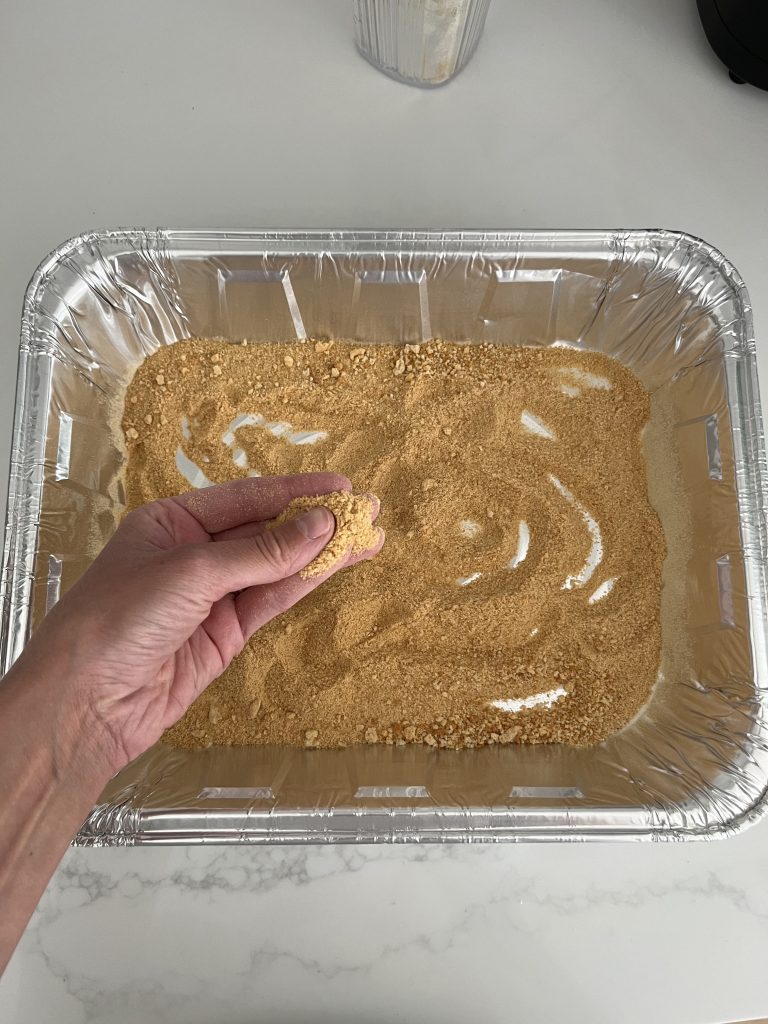 About to throw out the stale cereal you found at the back of your pantry? Simply add it to a blender and pulse until it's nice and smooth. Then add it to a sensory bin and VOILA… you've got taste safe sand! The texture is incredible and my daughter loved the feeling of it in-between her hands and toes.
For my daughter, I put the cereal in a tinfoil tray and made a "beach." I added some seashells I found at the dollar store, some blue wooden loose parts, a "shovel" and "pail" to scoop up the "sand" and a few foamy fish. Next to the bin, I put an ice cube tray so my daughter had the opportunity to transfer the shells and loose parts from the bin to the tray. She absolutely loved it.
Since then, I have also made a construction zone sensory bin. I added our blended up cheerios to a tray and included some loose parts like rocks and wooden pieces. Then I threw in some tools like shovels, scoops and hammers so my daughter could move around the sand in different ways. For some added fun, I also included a digger! For easy clean up, try putting down a shower curtain liner or plastic tablecloth underneath the bin to trap all of the extra sand.
3. Pouring Stations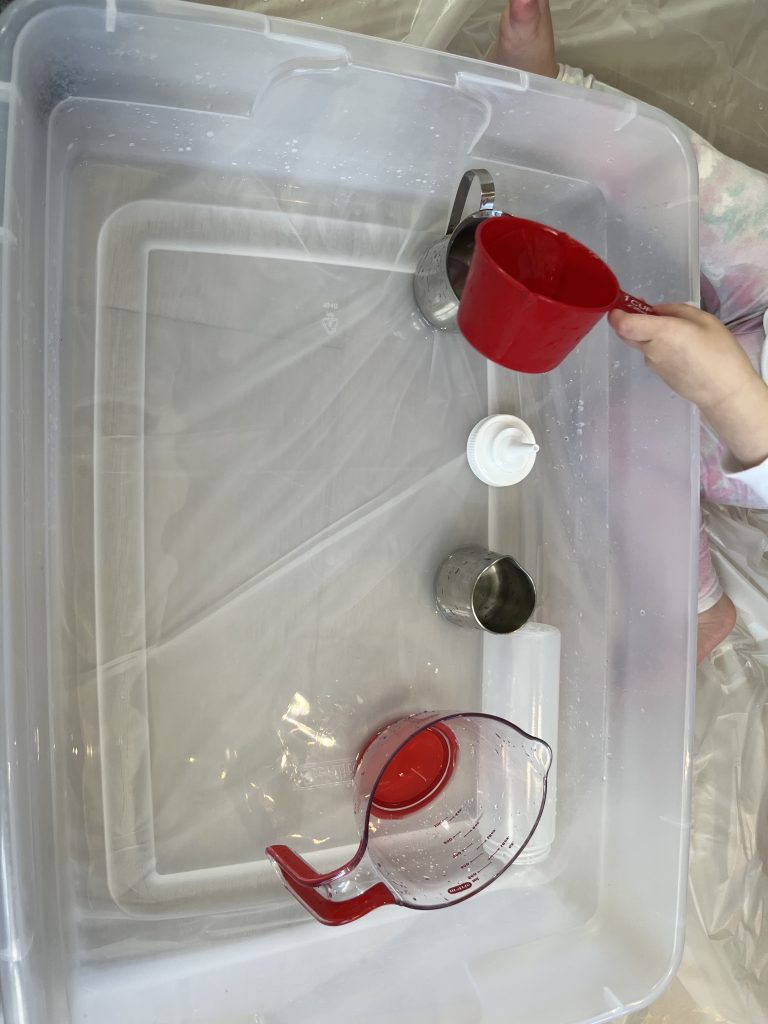 This is one of my favourite sensory activities. Not only does it take TWO MINUTES to set up, but you have all of the materials in your kitchen. All you need is a bin and anything that resembles a pitcher or cup. Put your materials inside your bin and add water. For some extra fun, you can add a little bit of food colouring and try some colour mixing.
Your child is learning:

✔️ LIFE SKILLS
✔️ INDEPENDENCE
✔️PROBLEM SOLVING SKILLS
✔️ MOTOR SKILLS
✔️ HAND EYE COORDINATION
✔️ SCIENCE
✔️ MATH
✔️ CRITICAL THINKING SKILLS
✔️ CAUSE & EFFECT
Pretty neat, huh? Teachers, I think this would be such a neat idea to try in your classrooms.