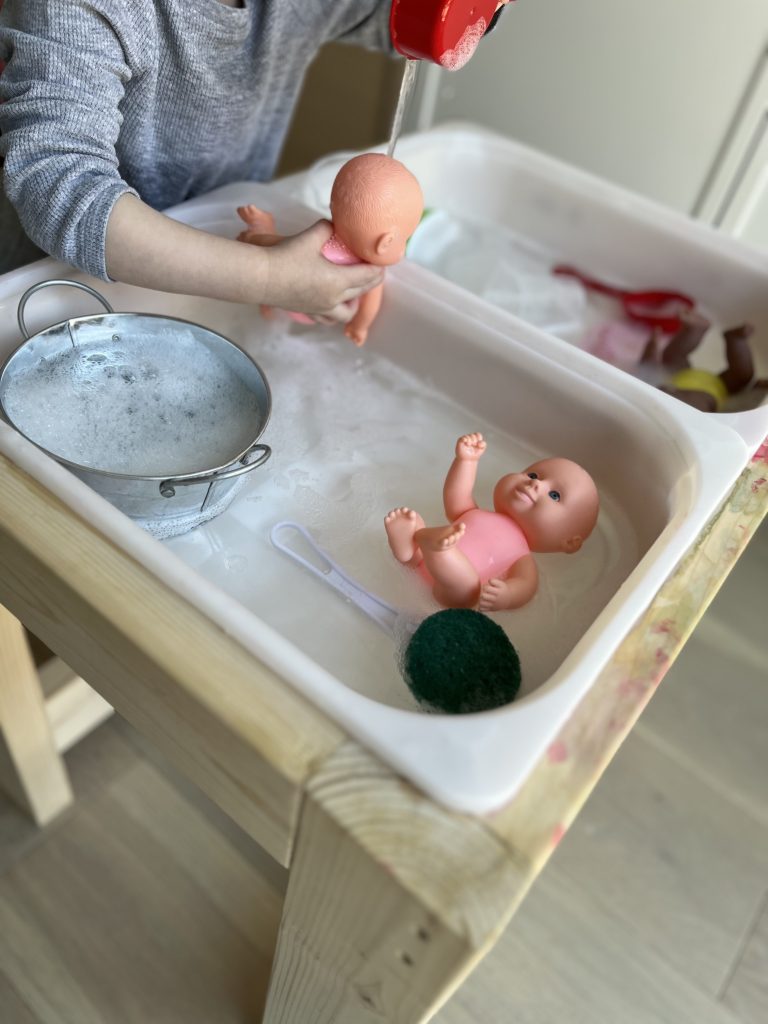 Children have a natural urge to explore materials and objects in certain ways to make sense of the world around them. They like to dump, pour, scoop, connect and disconnect, transform and transport things which is why sensory bins are so appealing and engaging for children. Sensory play caters to this kind of play and repetitive behaviour. Below you will find 10 simple sensory bins to try with your children that will only take minutes to set up and clean up. If you live in Toronto and FINALLY got your hands on the Flisat, all activities can be done with your new sensory bin table!
Kinetic Sand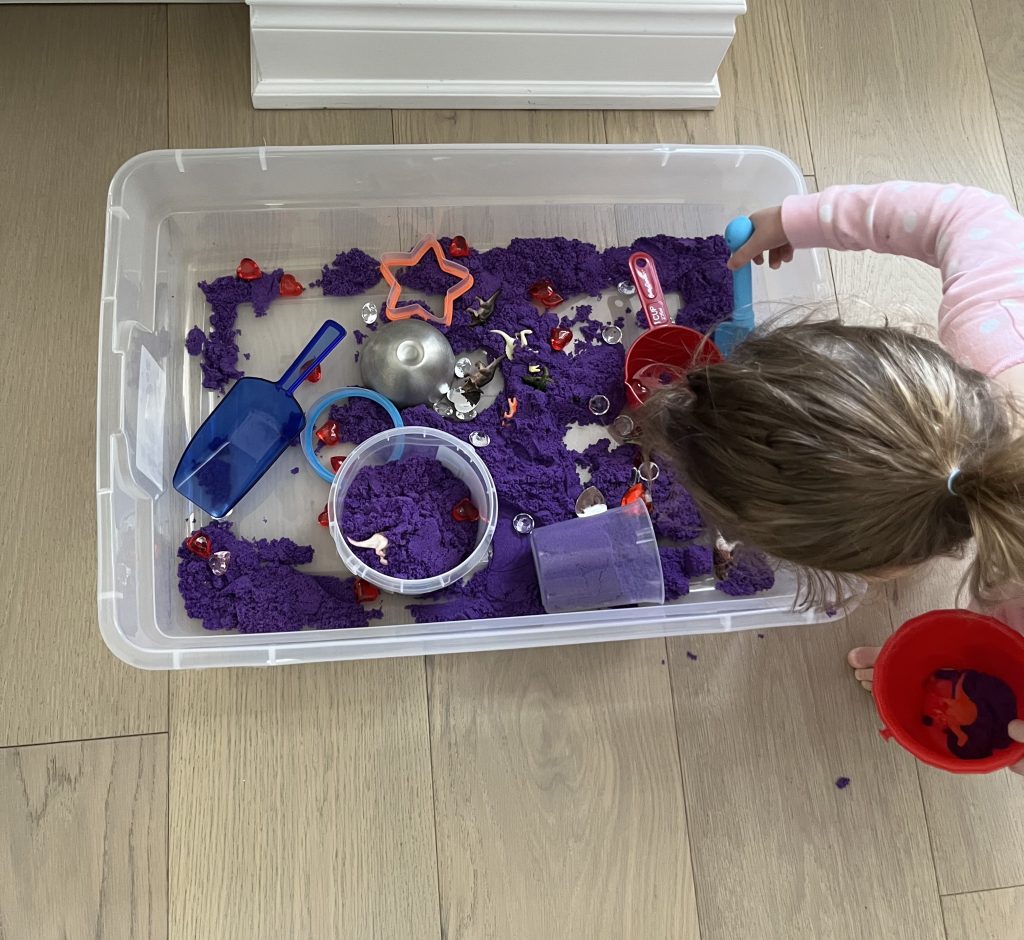 Kinetic sand is a great filler as the base for your sensory bin. It's easy to clean up, won't dry out and provides hours of fun for your little ones and big kids too! Add some fun and interesting sensory tools like scoops, buckets, shovels and cookie cutters. Throw in some loose parts and small toys, like diggers or dinos and you've got yourself one of the most engaging sensory bins!
Dino Bubble Bath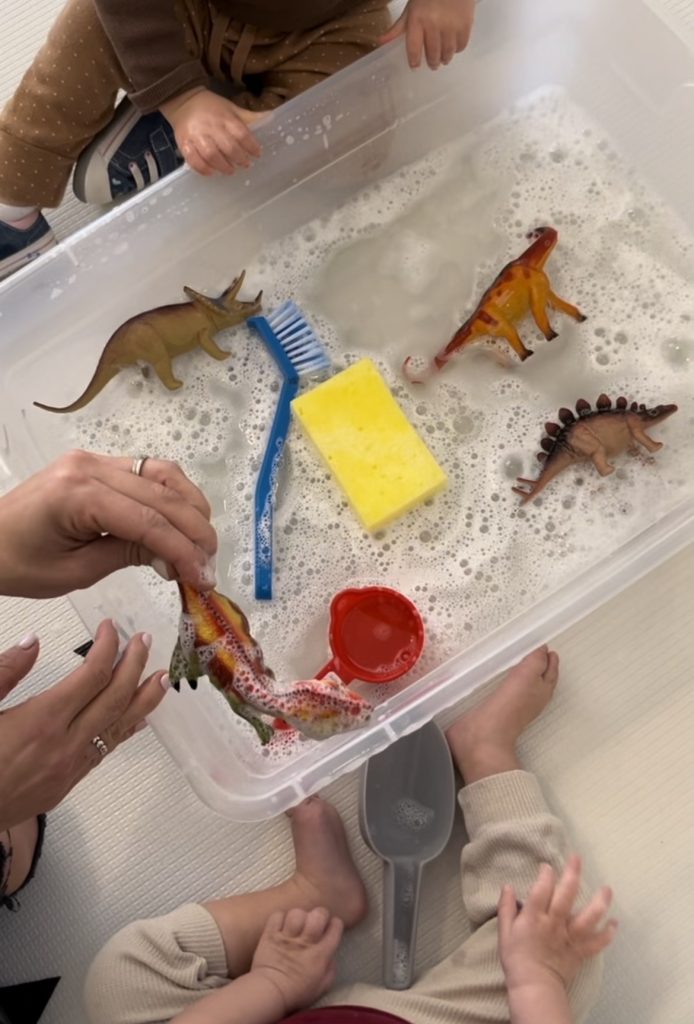 Dinosaurs, soapy water & sponges! That's all you need for this quick and easy sensory bin that I guarantee your kids with love. You can swap out dinosaurs for any toys you have at home like cars, babies, toy dishes or anything else that can be submerged in water.
No Mess Pompom Play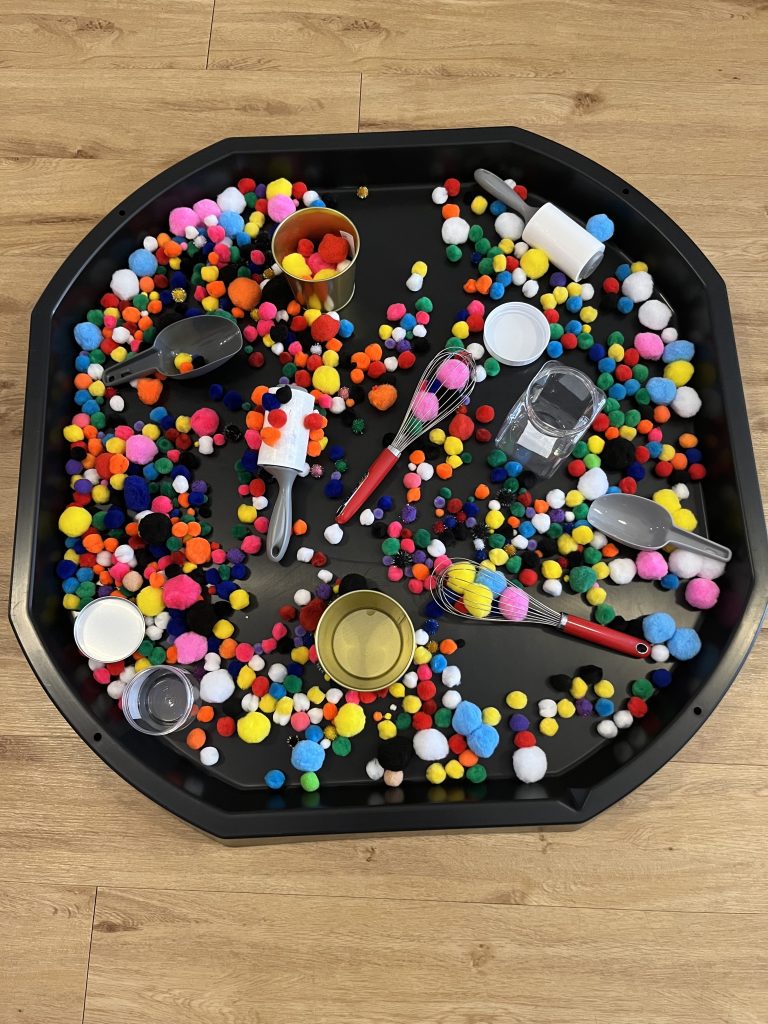 Here's a great dry sensory bin idea where children can practice so many different play schemas and strengthen those little finger muscles. Add pompoms, lint rollers, whisks, scoops and different size containers to your bin. The pompoms will stick to the lint rollers and your little ones will love trying to pull them off. Put pompoms in the whisk and have your child try and pull them out. They will also enjoy scooping the pompoms and dumping them into the different containers. This is a great option if you don't want any mess!
Pouring Stations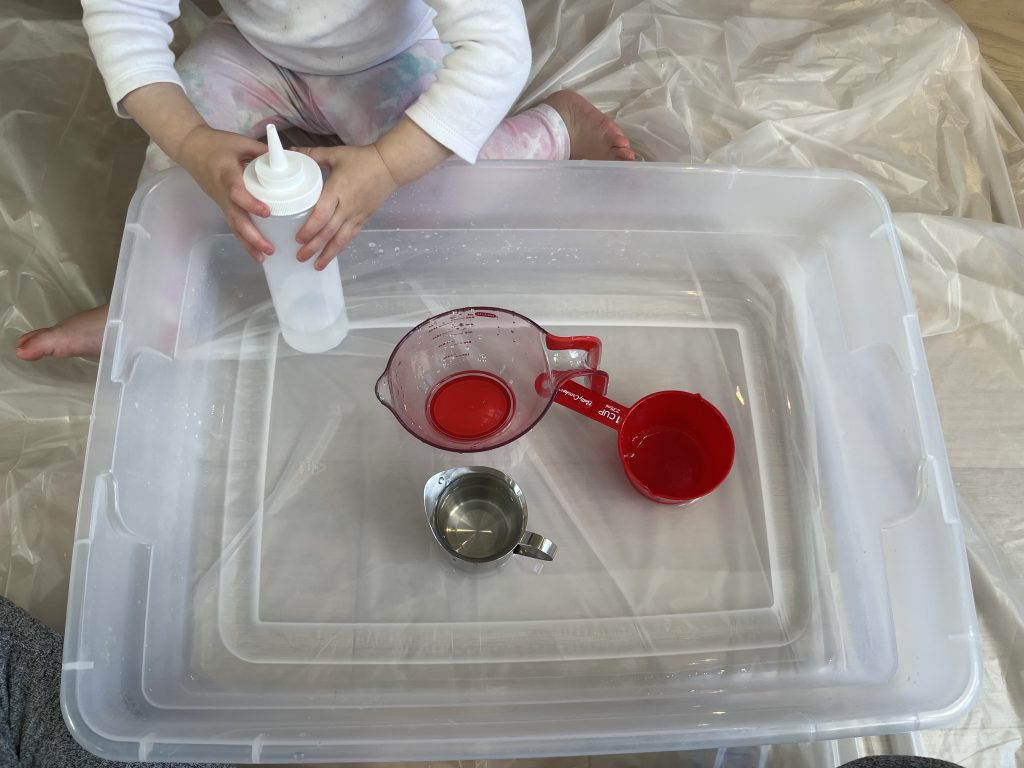 This is one of my favourite sensory activities. Not only does it take two minutes to set up, but you have all of the materials you need in your kitchen. Grab a bin and anything that resembles a pitcher or cup. Put your materials inside your bin and add water. For some extra fun, you can add a little bit of food colouring and try some colour mixing. In this simple activity, your children are learning problem solving skills, science and math concepts, cause and effect, critical thinking skills and independence as they carefully pour and transfer the water from one cup to another.
Pompom Squeeze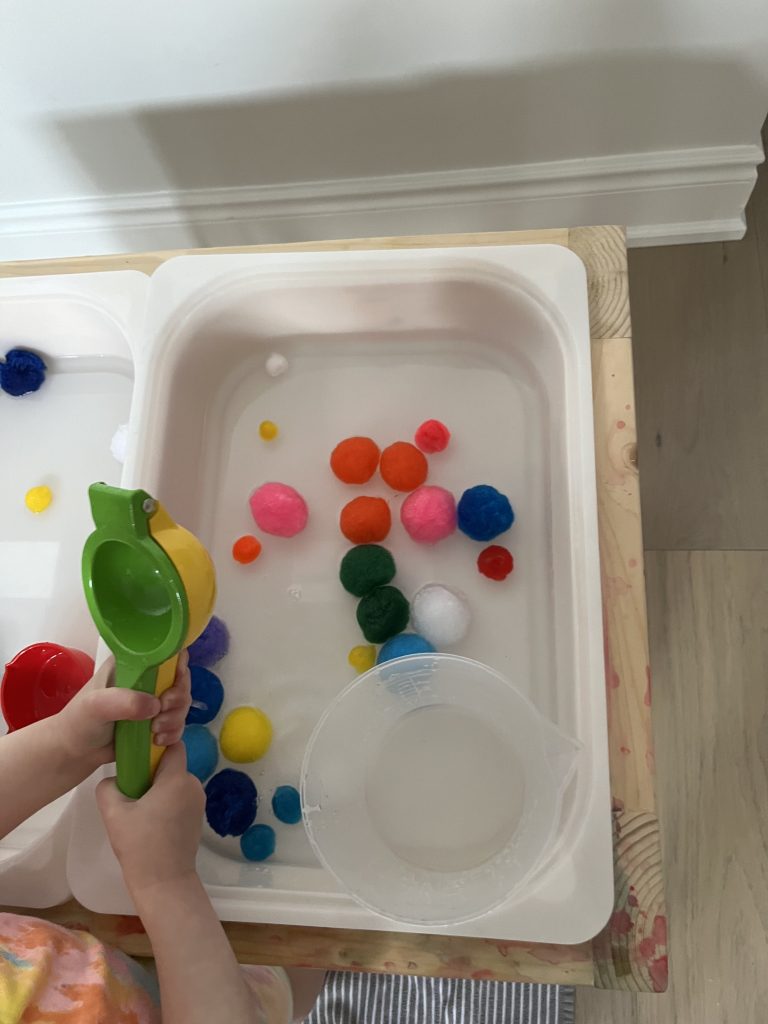 Add water and pompoms to your sensory bin. Include a lemon press (you can find them at Dollarama!) for squeezing and some scoops and beakers (cups or bowls are great too) for dumping, pouring and transferring.
Playdough and Loose Parts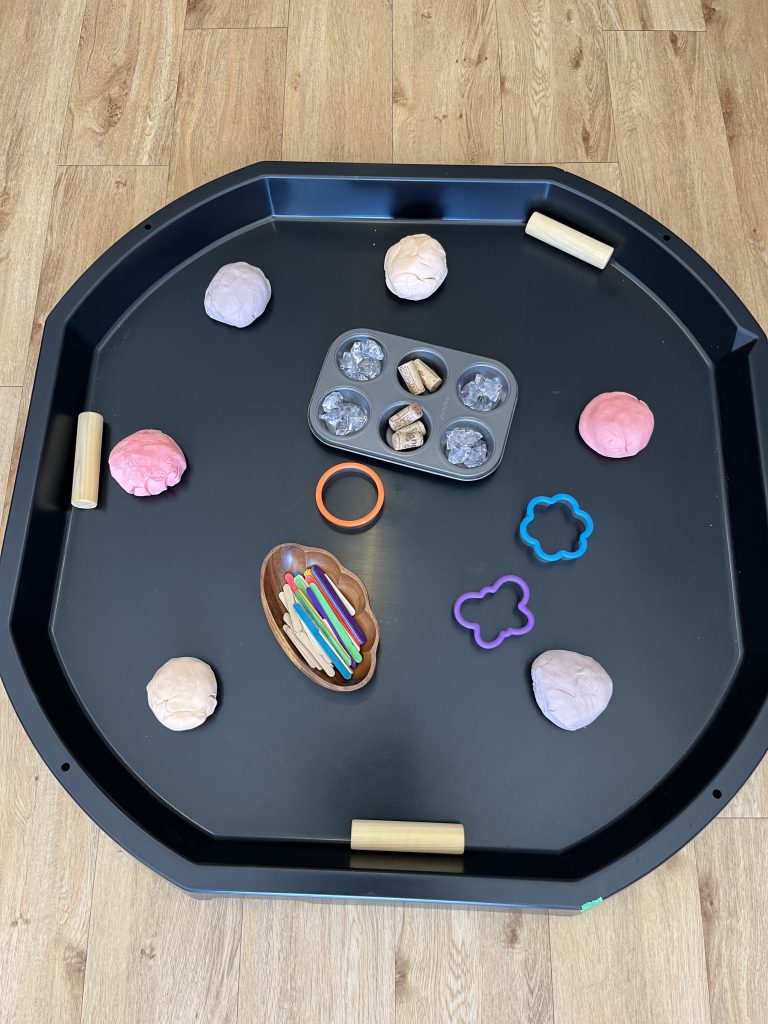 If you find playdough messy, try having your children play with it in a sensory bin. It will contain the mess and make the clean up much faster. Put the playdough in a ziplock bag once your children are done playing and leave it in your sensory bin so it's ready to play with again. Try adding some fun loose parts like gems, popsicle sticks, pipe cleaners and corks. I promise it will take the play to a whole new level and give your children the freedom to create. Have tons of Mr.Potato Head pieces lying around? Ditch the plastic potato and use the pieces with your playdough. Your children will have so much fun creating their own playdough people with the different body parts from the set! For some examples, click here!
Bubble Foam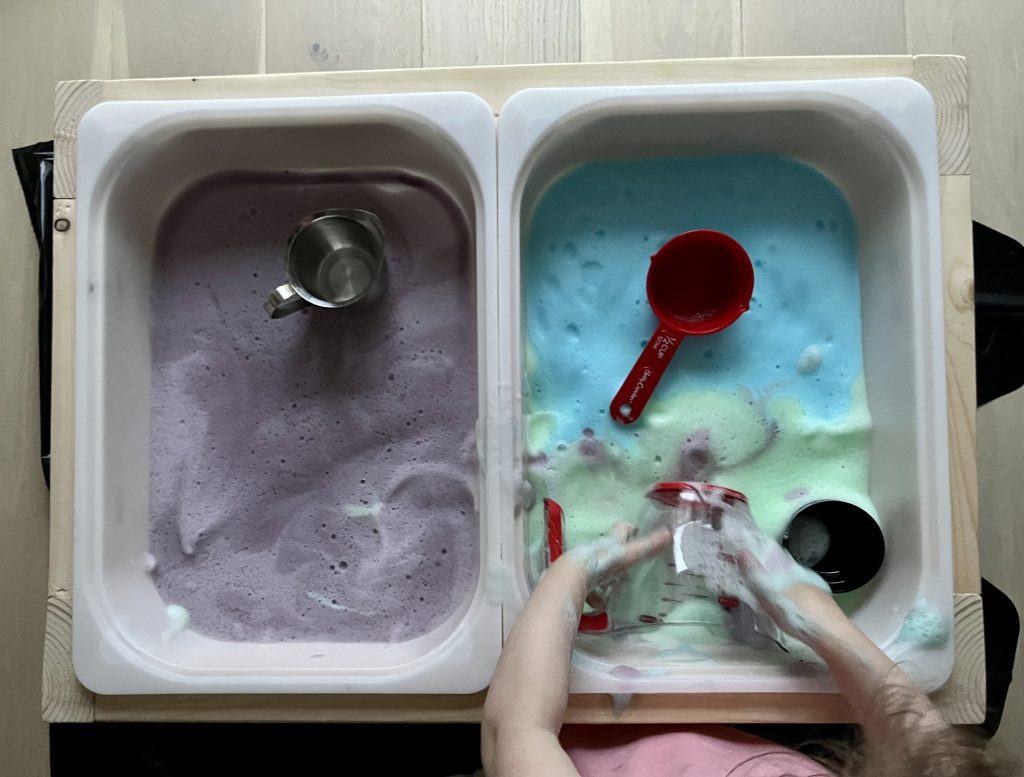 Add 1/2 cup of water, 2 tbsp of dish soap and some food colouring to a blender. Blend on high for about a minute. Add foam to your sensory bin with some kitchen utensils for dumping, scooping and pouring. The texture is amazing. I highly recommend picking up a set of dollar store measuring cups. I use them in almost every sensory bin AND they are the perfect bath toy since they will not collect any mold.
Laundry Hamper Sensory Bin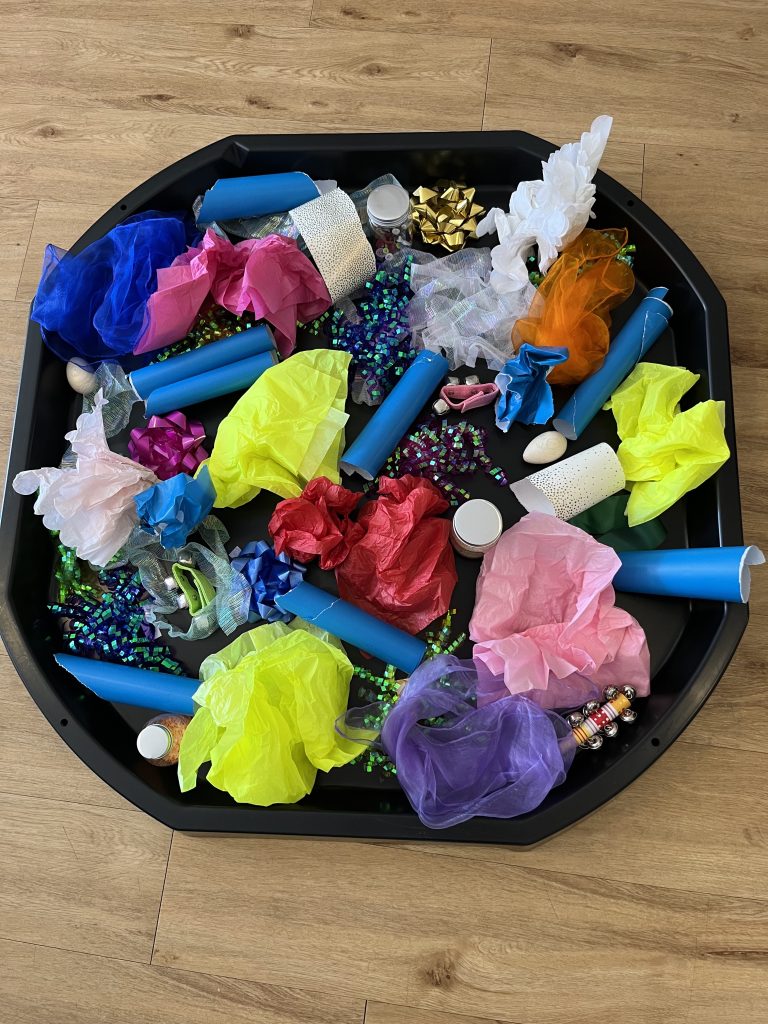 Have lots of tissue and wrapping paper laying around from a birthday party? Once your baby can sit comfortably alone, fill a laundry hamper with tissue, wrapping paper, ribbon and bows and tie play scarves or fabric to the outside. Let your baby pull the scarves and tear and crinkle the tissue! Babies love the different sounds, colours and textures so it makes for a really exciting sensorial experience. You can also set this activity up for toddlers using a tuff tray or large sensory bin.
Scooping for Blocks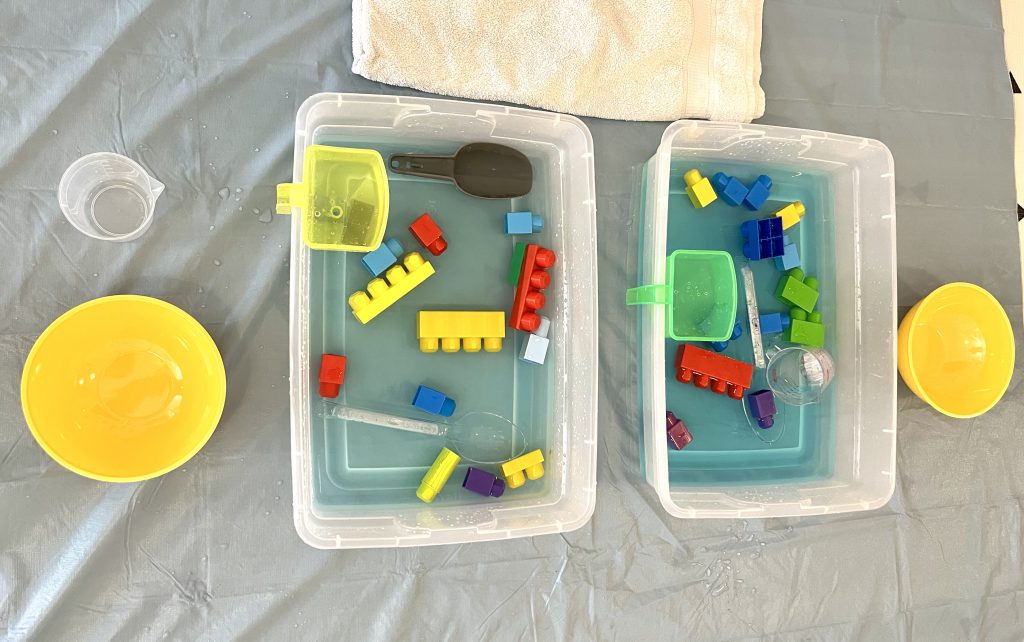 Add water, plastic blocks, some big spoons for scooping and bowls to your sensory bin. Such a simple and easy sensory bin to set up. Add a few drops of food colouring or some bubbles for some extra fun!
Flower Soup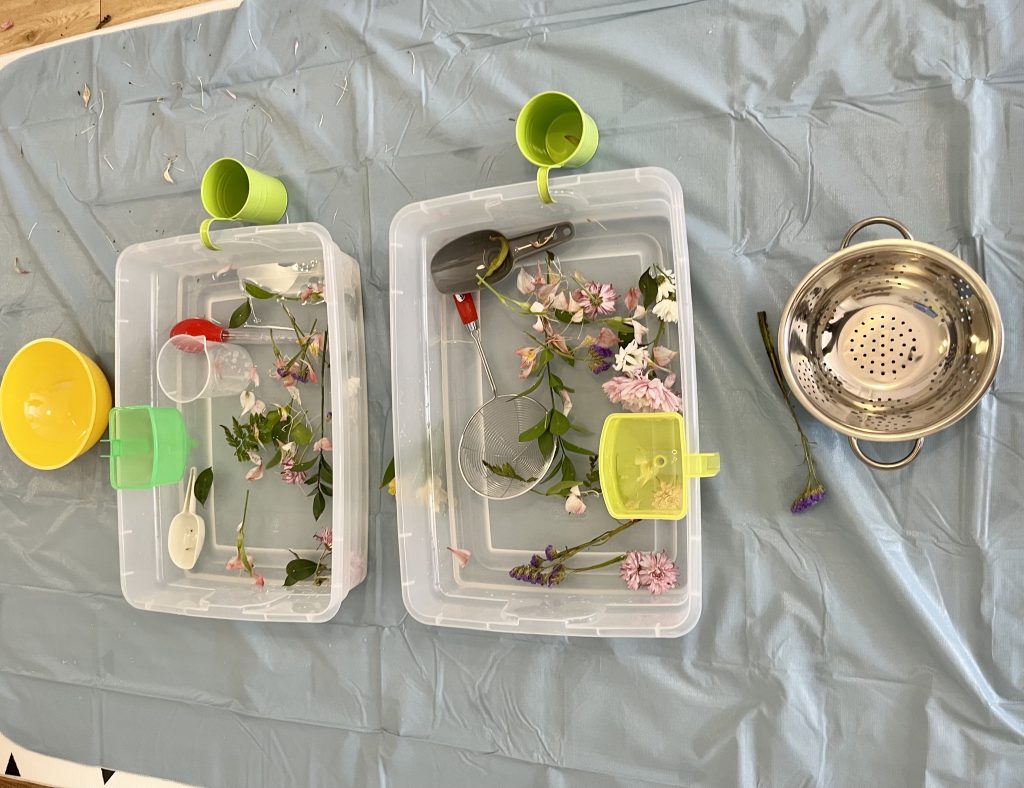 This is your reminder to keep those wilted flowers you received in your last bouquet and use them for some water play! Add your flowers to a sensory bin with water, spoons, bowls, scoops and funnels. I love using natural materials in sensory play, especially flowers because of their colour, texture and of course scent. Toddlers love it too because so many of their senses are engaged during this activity.
Here are some of my favourite sensory bins and tools:
The tuff tray from Scholar's Choice
Strainers, measuring cups, whisks and sponges from Dollarama
Beaker set from Scholar's Choice
Translucent funnels from Scholar's Choice
Handmade sensory table from Little Bean Sensory
** Be sure to use my code ERICA15 to receive 15% off your order at Scholar's Choice!